How to setup up My Voice Connection
Voice over Internet is the service that allows you to connect to the Public Telephone Network and make phone calls (this includes calls to mobiles and landlines) using your internet connection as the method to carry the voice call.
You can continue to use your existing handset, using an adapter that connects the internet to your handset.
Using a Hello Broadband supplied Netcomm Modem is a simple matter of plugging your handset into the telephone port of your modem.
To setup your own equipment, you will need to use:
the SIP username and SIP password to authenticate the service and make calls.
And configure the correct SIP Server.
All your SIP account details are provided in your Service Completion advice, please refer to your Service Completion Advice for your account details.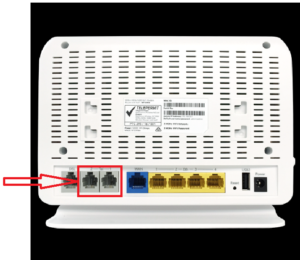 This image highlights the ports where you can plug your normal phone or base station into.